Your online store is unique with your own products, customers, and ideas of how you should grow. We want to help make your vision happen on a powerful, flexible eCommerce platform that delivers higher traffic, more sales, and repeat customers.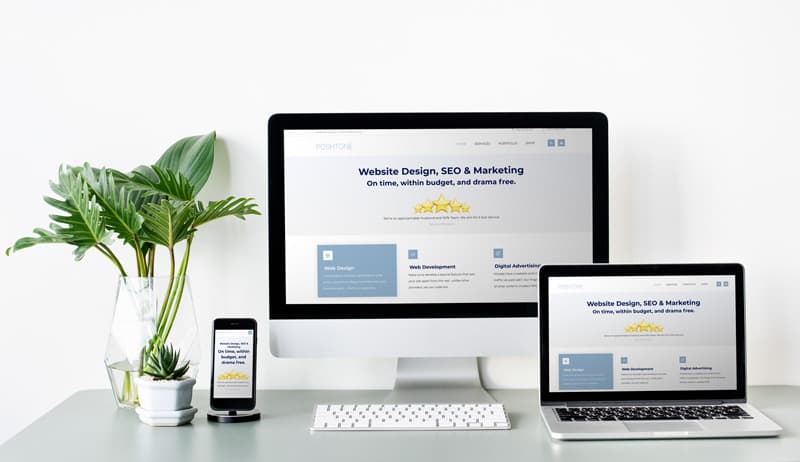 Web Design from Purely Business to Purely Sensational

Control – Want to be able to manage your own website and content? We often leverage a CMS like WordPress so you may perform your own upkeep. New content, swap media, update text. So easy to do yourself, or hire help from any one of the thoursands of freelancers who can help.
Show more
Show less
Piece of Mind – unlike some in the industry, we engineer our service offerings and your accounts in a way that is 100% in your best interest – not ours. We find it more than discouraging that many in this industry will sometimes try and use their knowledge of complex technology to squeeze money out of clients. We don't run this business because we have to, we run it because we like helping people.
Show more
Show less
Satisfaction – our goal is not just a great looking site, that works well and as intended, but also to make sure you are happy with it, and that you get what you expected. We go the distance to understand your needs, first.. then we go the distance to pick a path for delivery and properly set your exceptions. We find this is a great way to make sure you (and us) remain happy and stress free in the process.
Show more
Show less
Chris has been helping business launch websites since 1998. In that time he has gained experience in marketing, SEO, development, application program interfaces, system administration, ERP, Networks, SQL, and much more; Chris brings over 20 years experience to the table. In 2015 he earned a masters degree from Nova University in management information systems with a focus on website management.
ECOMMERCE & MAGENTO WEB DESIGN
Our Custom Solutions
Conversion-Focused
Streamline every aspect of shopping and browsing to craft a unique online experience that leads to more sales.
Flexible Stability
Deliver fast, responsive, and always-up performance by hosting your eCommerce site on a cloud infrastructure tuned to handle a rush of new customers.
Rich Analytics
Learn from every user interaction with your brand, then draw insights to optimize your customer experience and drive revenue.
Mobile Enablement
Unify an enjoyable user experience across mobile and desktop browsers.
Smart Security
Guard your customer data with layers of security on every touchpoint – without slowing down your website or hurting conversions.
Powerful Scalability
Design your eCommerce strategy and platform to adapt as your business expands, including resource allocation and customer retention.
Choosing the right E-Commerce Platform
Shopify is a hosted solution (where your store is hosted by them). It is more for beginners, with a simple user interface. Shopify is a commercial product (that you need to pay for).
Shopify is a hosted solution (where your store is hosted by them). It is more for beginners, with a simple user interface. Shopify is a commercial product (that you need to pay for).
Shopify is a hosted solution (where your store is hosted by them). It is more for beginners, with a simple user interface. Shopify is a commercial product (that you need to pay for).
Magento is a popular choice due to its analytics, reporting features, and easy-to-use capabilities for adding and managing inventory. Magento requires that you provide your own hosting, install, setup and configure everything before you can actually start creating your store – something requiring medium to a high level of web development and programming skills. Magento Open Source is a free, open-source software.
Showcase your products beautifully
We make your site the best e-commerce website on the internet, enhancing your brand and digital presence while giving your customers an easy way to access the products they need. No matter your industry, our team has the web development experience to build sites that engage your customers.
But don't just take our word for it. We prefer our work to do the talking. Check out our portfolio to see examples of our e-commerce sites.
I've used Poshtone for multiple projects from design to full development of sites and SEM Campaigns. Having been around web-based development for the last several years I can honestly say that Poshtone is the one that I've worked with that actually cares about the success of their work. Straight shooters and hit deadlines…
Chris Borgia at Poshtone has helped me grow my business by delivering a phenomenal website that has attracted many new clients. He is knowledgeable and professional and always on top of the latest technology trends. He is my "go-to" guy whenever someone needs an SEO / website design referral.
10 Years I have been working with Chris to help me online with personal and professional needs. There is a good reason for that = he knows very well what they are doing, and I can always depend on them to get the job done on time and within budget. If you need someone to help with any effort online, websites, SEO, marketing.
Excellent job guys! Fixed several issues with our website that even our IT department was completely unaware of. They put us on the right path in regards to SEO, AdWords, and Facebook marketing. They have saved us much more money then what we've paid out to them. They completely revamped and modernized our site…
Chris and his team were fantastic to work with, they delivered a product that was professional and easy to use. I now have a great looking website that is easy to navigate and easy for me to update myself if I need to. I'm extremely pleased with the results!

Web Sites We've Recently Launched